Rames Reyes worked in a string of precarious jobs until he opened his barbershop on Boulevard Monk in Montréal. The key to his success is his social vision of the trade, faithful to his Honduran roots.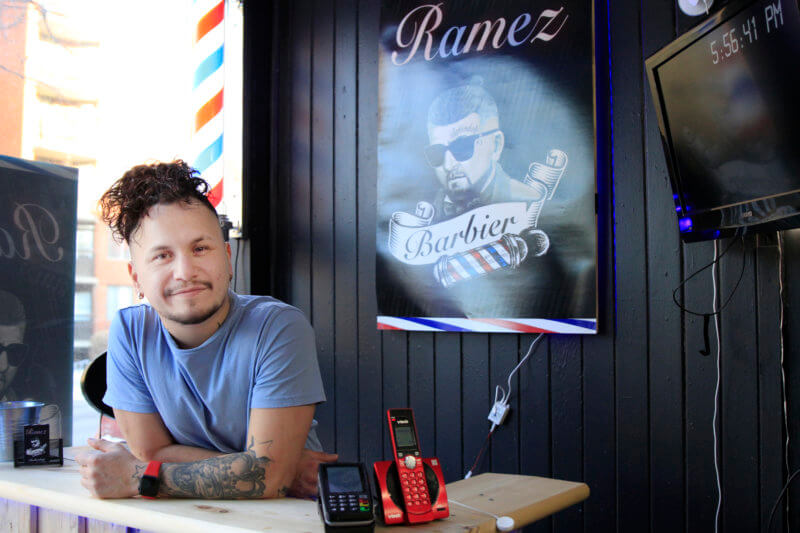 Rames Reyes, propriétaire de Ramez Barbier
Ramez Barbershop: neighbourhood barber in Ville-Émard, well-anchored in the community
When he was an entrepreneur in his native country, Honduras, Rames refused to pay "quotas" to the street gangs. It was to escape this insecurity that he moved to Québec 14 years ago, full of high hopes.
His professional integration was not always easy, Rames admits. "Even after getting permanent residency, you don't always have the opportunity to work in the field you studied or where you got your previous experience."
After a period of professional instability, something clicked
Rames emptied septic tanks, worked in forestry and signed people up for credit cards for a large chain store to pay his bills. Until the day he opened the door of a hair salon in Sainte-Adèle.
"I was living there at the time, and I had just lost my job. I wanted to have my hair cut before looking for a new one, because I know a good cut always brings you happiness and more confidence," he recalls.
Was it his appearance? Or a nudge from destiny? The hairdresser asked him whether he was a barber. He said no but acknowledged that the trade had always appealed to him.
"Even though I have a diploma in business administration, I always wanted to be a barber, because my barber in Honduras earned a good living and he was very calm and peaceful. He always knew what was going on and everyone knew him. He was a local reference point! I wanted to reproduce that in Montréal."
On the hairdresser's recommendation, Rames moved to Montréal to train. Then he found a position at a neighbourhood barber where, due to a staffing shortage, he was soon entrusted with management tasks.
The problem was that the people he was working with did not like their trade and the pay was insufficient. "That's why I went out on my own, because I was giving 110% and getting only 50% of what I deserved," he muses.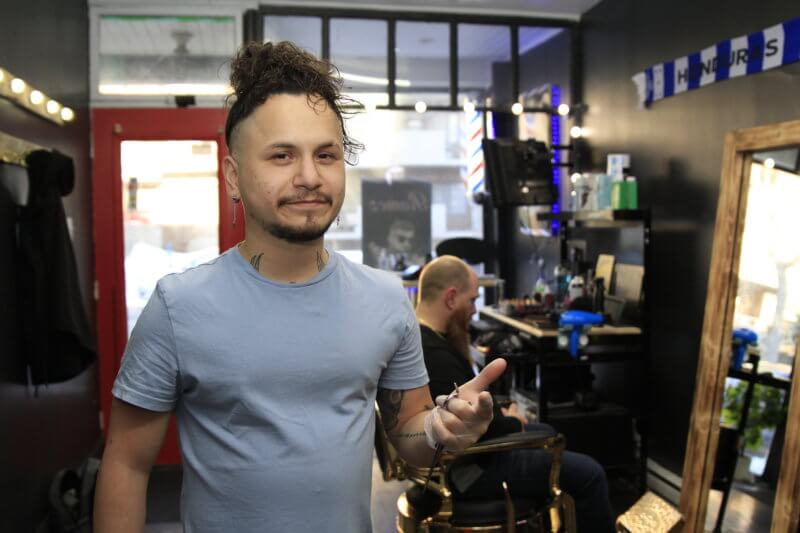 Rames Reyes, propriétaire de Ramez Barbier
Rames did his research, gathered up his savings and got started in the fall of 2021…right in the middle of the pandemic! True to his philosophy for the trade, he set up shop in the neighbourhood where his clients live. "That gave me a boost from the very beginning," he smiles.
He knocked on the doors of institutions and banks in vain: support was not forthcoming. It was through a client that he learned about Microcrédit Montréal. "It gave me hope and confidence, because when you want to build a business that will have a local impact and all you can get is a big fat zero, you feel like giving up. So, I applied for the loan, and Microcrédit Montréal took an interest in both me and my business."
With this financing in hand, the entrepreneur was able to set up his salon to his liking. "At first, I was doing hair in front of a mirror I made myself, using a chair that did not meet my needs, without enough light and with just a mini fridge! With the loan I was able to buy everything I needed to make sure my clients felt good," he says happily.
Harvesting the fruit of his efforts
Today, Rames is in high demand. "In seven months, I went from 20 clients a week to 45. And I have five stars on Google!" he brags. His only obstacle for expanding his business is finding an employee who shares his values. "I'm offering to demonstrate the trade for free with a two-year contract, but unfortunately, I still haven't had any applicants. I may seek out someone from abroad."
Rames is still full of ideas, and when the time comes, "for sure I'll be knocking on Microcrédit Montréal's doors!" he says.
Like Ramez, do you wish to have access to loan and support from Microcrédit Montréal to carry out your business project?