A physiotherapist and university professor in Brazil, Guilherme Medeiros de Alvarenga chose Québec for his post-doctorate. As he pursues his research, he is also in the process of having his diploma and 22 years of experience recognized so he can practise his profession here and take care of our seniors.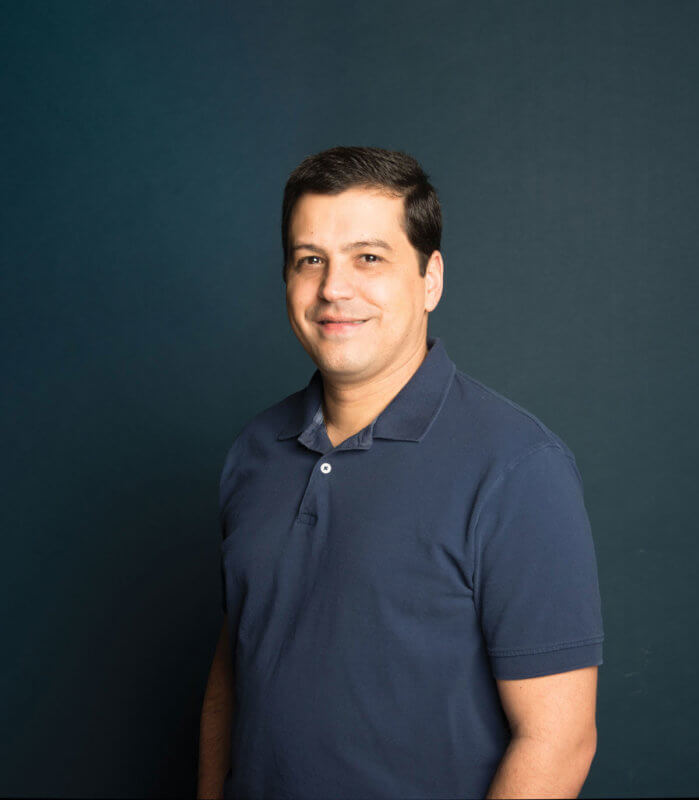 Guilherme | "I believe that with my professional experience, I can give the very best care to the elderly"
It has been two years already since Guilherme Medeiros de Alvarenga left Brazil to settle with his family in Montréal. His motivation was to take advantage of professional opportunities and give his children a better future.
"I realized that there was lots of room here for physiotherapists like me who have experience with the elderly. It's also a good option for my three daughters, because I think that women are valued in Canada and in Québec," he explains.
Steps for finding patients
As a practising physiotherapist and academic in his country of origin, Guilherme managed to get a Canadian work permit to do a post-doctoral degree at Université de Montréal.
"I'm here to do research on the treatment of pain, in the rehabilitation department, in collaboration with an occupational therapist and a neurologist," he says.
This is laboratory work that he cannot do in a private practice or healthcare institute. To become a physiotherapist in Québec, Guilherme must have his Brazilian diploma and past experience recognized first in order to be admitted to the professional order.
"I looked at the process and all the documents that must be provided, and I realized that the only thing I was missing was the money to pay for the recognition process! Since it has been only two years since I have been here, it was impossible to get a bank loan, because I am still building my credit history. It was on the Ordre professionnel de la physiothérapie du Québec website that I learned I could get a loan from Microcrédit Montréal," he recalls.
Financial support that provides relief
"Emails, telephone appointments and follow-ups: my dealings with Microcrédit Montréal were great! The loan allowed me to pay for the translation of my documents, the annual contribution and the processing of my application. I will also be able to use that money to pay for the additional training required by the order, such as professional ethics and knowledge of the Québec healthcare system, and to pay for my French exam," he adds.
The process has been ongoing for five months, and Guilherme is hoping to receive a positive response from the order by the end of the summer. One thing is certain: as soon as he can, he will start practising his profession again among the elderly.
"As a healthcare professional, it was hard for me to have to stay home for the two years of the pandemic. I believe that with my professional experience, I can give the very best care to the elderly," he insists.
When he looks at how far he has come, Guilherme is both proud and happy. His daughters have finished their "classe d'accueil" in regular school and his wife has found a job she loves. He sees the helping hand he got from Microcrédit Montréal as a factor in their successful integration.
"I have four years to repay the loan. That gives me time to wait for my file to be approved and to join the workforce here in Québec. I want to sincerely thank Microcrédit Montréal for this opportunity."
Like Guilherme, do you wish to have access to loan and support from Microcrédit Montréal to get your credentials recognized faster and work in your field in Québec?