Lorraine Abeng chose to be an entrepreneur to be able to express her passion for quality cuisine, good for the body and the soul. Having been a restaurant owner, then a head chef working in the health care network food industry, Microcrédit Montréal's financial help encouraged Lorraine to take her first steps in the distribution of her homemade products.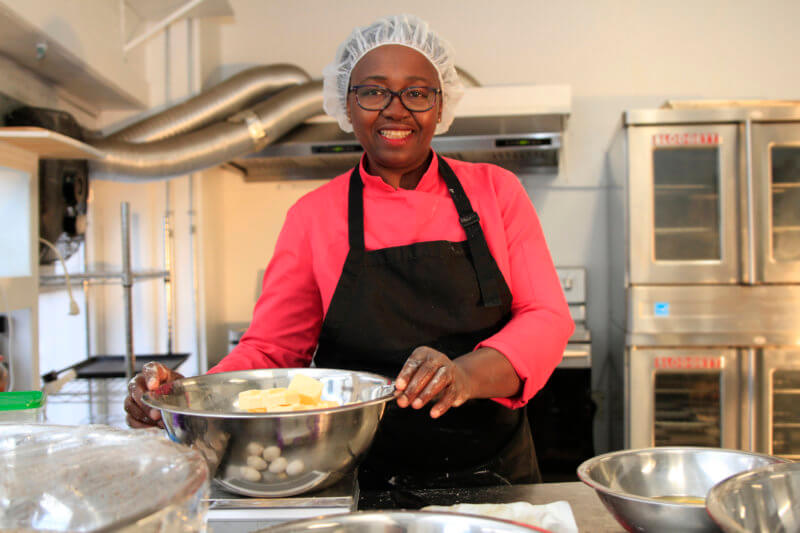 Les Saveurs de Lorraine | Lorraine Abeng
Les Saveurs de Lorraine | Feeding the world… Better
Tourtière is Lorraine's specialty. A bit surprising one may find for this Cameroon-born Canadian who came to Québec 25 years ago. "I learnt to make tourtière here and I refined my recipe through the years with the various comments of my clients. It is all about the proper dosage of spices and seasonings, and keeping the crust crunchy".
From high cuisine to feeding marginalized populations
She served her first tourtière in a restaurant she owned in Montréal years ago. She then put it on the menu of the Canadian Cancer Society's Montréal lodge in 2008. "They contacted me to restructure and improve the quality of the food service. At first, I felt a bit out of my league since I had never worked in the food services of any health care establishment".
Soon, she was confronted with cases of patients with aphasia or some who have lost their appetite due to the treatments they are receiving. "For some, everything tastes like very bland". To solve this issue, she decided to team up with a nutritionist having a specialty in oncology to make her recipes more appropriate for her new clientele. "I had many questions about what hospitalized patients should and should not eat. For example, in an industrial setting, we would use a lot of sulfites in the sauces we made. Those sulfites are very bad for patients and should not be used. Basically, it was best to cook home-style food. Smaller and individualized".
In 2013, Lorraine suffered a work accident that put a serious pause on her career in the food industry. She was weakened by it physically, but she found the strength to reconvert herself. "At first, I started an employment agency for hygiene and food workers wanting to work in elderly care institutions". Many clients are interested in her services, but there are not enough workers to meet the demand, and delays in receiving payments force her to close the agency a little while later. She also did not like the fact that ultra-processed food was being served to the elder residents. "I asked myself how long more would I contribute to their declining health".
Homemade meals seeking a large distribution
Having gone back to Cameroon to get traditional medical treatments, she came back with an improved mobility and she could now go back to cooking. She could, more importantly, get back to her mission of making quality foods for the elderly. She thus created Les Saveurs de Lorraine in 2021 to offer elderly care residences quality food made from organic produce and hormone-free meat.
The process was a long one: target the clientele, setup a competitive pricing structure, find a way to enter the food processing industry by having the sales volume necessary for those types of establishments.
"I chose to focus on meat tourtière and quiches because they are dishes that are often found on the menus of the care facilities. Elderly patients love them! Besides, my recipe had already been featured in an article by Liliane Lacroix of La Presse back when I owned a restaurant".
Motivated by the challenge, she wrote up her business plan at the École des Entrepreneurs du Québec and integrated the incubator at the Carrefour de l'Industrie Bioalimentaire de l'Île de Montréal (CIBÎM). "I am learning about the various inner workings of the industry and I get to meet a lot of the business people that are associated with it. It is a step by step process".
Getting a loan for nutrition labelling
Investing all her savings in her business, money came up short when she had to create the nutrition labels for her products, an obligatory step in Canada for the large-scale commercialization of food products. "Funds were needed for a nutritionist, a photographer and a graphic designer to set them up and print them".
Upon the recommendation of a fellow business person, she approached Microcrédit Montréal to inquire about financing opportunities.
"The support that they offered was very human centered. They listened to me and opened a lot of doors for me. It gave me a lot of confidence. They actually financed the kiosks that I set up at the Salon International de la Femme Noire and others events and public markets. I did not expect that, and it was a real boost!".
Christmas cooking as a stepping stone
Today, Lorraine knows she has all she needs to achieve her mission. Having set up a physical space at 270 Sherbrooke W, she is now concentrating on producing products for the Christmas holiday shopping. She is cooking everything: from tourtières to African delicacies to gluten-free meals to FODMAP based recipes for people suffering from irritable bowel syndrome. She even has tempeh-based recipes for here vegetarian clientele.
"I can't sell my products to long-care residences until I get my own kitchen and C1 permit. To get to that, I need to increase my sales and amass more funds".
In the coming weeks, you can find Lorraine and her products in various Christmas markets in the city like the ones at Place des Arts and the Atwater market. You can also send orders to her by phone or email.
Like Lorraine, you wish to have access to loans and support from Microcrédit Montréal to carry out your business projects?