Since their first model was launched in 2018, Lisa Noto and Félicité Donyo have carved out a place in the Québec fashion world with an innovative and eco-friendly concept: the TUKUAN skirt. With their headquarters in Chabanel, Montréal's fashion district, the two entrepreneurs sought out the assistance of Microcrédit Montréal to launch their new product.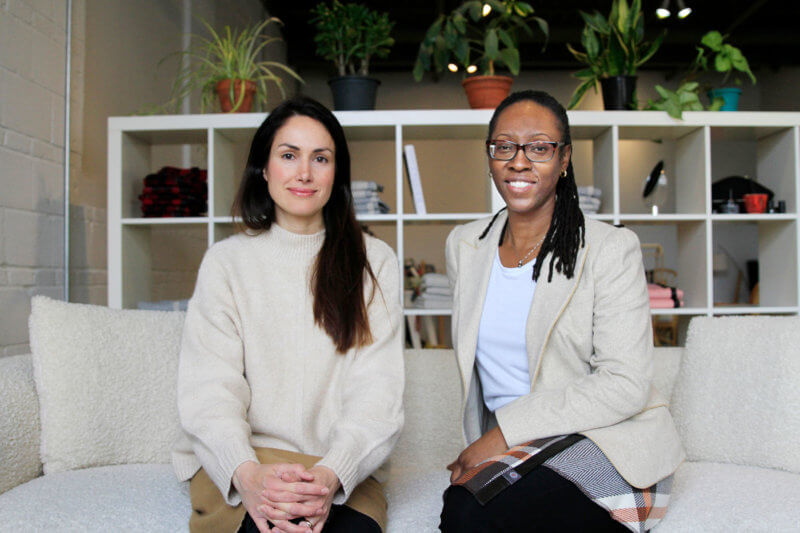 Lisa et Félicité | Créatrices de TUKUAN
Lisa and Félicité | Creators of TUKUAN, the versatile, eco-friendly skirt
The TUKUAN skirt is the accessory that has been missing for Québec's notorious winters. The idea of this versatile skirt – which can also be worn as an overskirt, a shawl or a scarf – took root in Lisa Noto's mind back in 2015.
"I really mind the cold, so I was always wrapping scarves around my hips in addition to my winter clothes when I went to cafés or outside with my kids or on my way to the office. That's how I came up with the idea of a kind of pareo for cold countries," explains this fashion enthusiast, who was already a cosmetics entrepreneur.
Blending style, practicality and ethics
Lisa thought immediately of her friend Félicité Donyo, a fashion designer, to bring this skirt to life. Enthralled with the concept, the creator also saw it as an opportunity to work using her deep convictions.
"I've always been aware of ethical fashion, but it just wasn't a reality in the businesses where I worked. When Lisa came to see me, I said yes, we can do it, and do it in an eco-friendly way!" she recalls.
Three years of experiments later, the two women patented the design for their A-line skirt, which adapts to every body shape and size, and set up shop in the Chabanel district to begin production.
"All the manufacturing is done right here in Montréal, for ecological reasons and as a matter of simplicity: it facilitates life-work balance and allows us to work with real, local people," Lisa points out.
Besides wanting local facilities, they wanted to offer clothing that is both beautiful and durable and to ensure that the impact of its entire life cycle had been considered.
"We are working with organizations such as Vestechpro and Synergie Montréal to build a loop from design to delivery and the use of the skirt. We are even thinking about ways to recycle it at the end of its life," adds Félicité.
These efforts have been rewarded by B Corp certification that the two entrepreneurs are especially proud of.
Financing (and more!) to grow
In 2020, the two women began to consider a summer version of the TUKUAN to expand their product line.
"We thought it was a good idea, but we didn't have the money for it. With banks, it is pretty much impossible, because you have to already have a big turnover. It's the chicken and the egg," sighs Lisa.
So the partners turned to Microcrédit Montréal to finance their project.
"What's great about Microcrédit Montréal is that it isn't just a loan. It's support on many levels, with consultation, training, and they're always there to answer our questions. We also had the opportunity to be invited to two Collectif Créatif MTL tradeshows, thanks to them.
It's another way to promote the product we developed with their support," explains Félicité. "It's also a kind of validation for our project to be able to say there are people who believe in us, who want to push us forward and do things differently. It gave us the courage to continue!"
Besides launching their new product, Félicité and Lisa are constantly adjusting their strategies for the development of their business.
"We realized with Microcrédit Montréal that tradeshows were a big win for us, and we decided to do one this summer and to include that in the coming years, like approaching big distribution clients in Canada and in the US," Lisa adds.
Those are big ambitions for TUKUAN. As Lisa says, "The sky's the limit! We want to be the winter fashion accessory signature in Québec and in other northern countries. It means establishing our position here in Québec, getting more traffic on our website and working our campaigns and ads by talking about style, manufacturing and eco-friendliness: in other words, getting the message out!"
Like Lisa and Félicité, do you wish to have access to loan and support from Microcrédit Montréal to carry out your business project?