Carina Aguey-Zinsou is the queen of pastries, macaroons and other sweet delights. This pastry chef overcame degenerative loss of vision and other limitations to open up A Les Sens Ciel. Microcrédit Montréal was amongst the first to believe in her…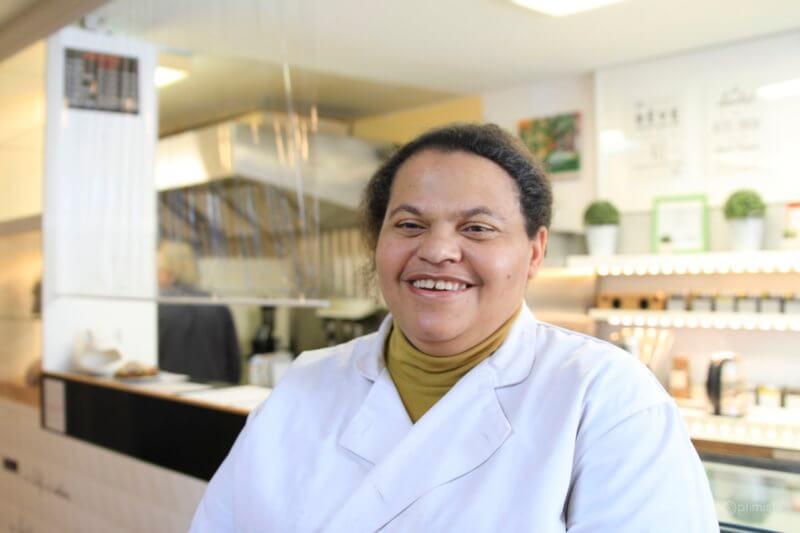 Carina d'A Les Sens Ciel – Creator of high end pastries with an inspiring story
It is barely autumn, but already many customers are passing orders for their Christmas celebrations. "It is a stressful process, of course, but how exciting!".
If she now is able to enjoy her clients' confidence in her products, it is because so much adversity had to be fought to get to where she is. "When I was ten years old, I started to develop Stargardt disease, a genetic disorder of the eye that causes progressive loss of vision. In my case, I lost my central vision and only retained my peripheral vision. I had to adapt quite fast to that condition to be able to integrate and take my place in society".
Very early, Carina developed an interest in pastries. Eating them, but also making them. "My parents were entrepreneurs and they would often organize meetings and events. I was always in the kitchen instead of mingling with the guests in the main room".
However, it is only when she came to Quebec ten years ago, via France, that she could really fully immerse herself in her passion.
"One day, my husband brought the pastries I made for his birthday to his office. His co-workers appreciated them enough to ask him if I could bake some for the various events the company held".
A Les Sens Ciel was born.
"I tested all kinds of pastries and settled on making various types of cookies stuffed with fruits, and mousse and crunchy parts. Working exclusively with local producers, I'm proud that most of my products are organic. I'm also attentive to adapt them to dietary constraints of certain clients".
By 2020, word of mouth is bringing in accrued sales, the number of places where her products are sold is increasing and Carina is now also making sales online. With such enthusiasm about her products, Carina decides she should open up her own boutique. "I was able to participate in a Christmas market and give my products very good visibility. That is when I had a flash: people need to see my products and smell the aromas. It can't just be online and virtual".
Needless to say, from the idea to the actual space, lots of challenges related to her visual handicap would have to be overcome: "The biggest challenge I faced was the payment terminal technology as none had text to voice capabilities needed for me to use. Sphere Quebec, an organization that supports entrepreneurs with handicaps, was there to guide me. They put me in contact with the Institut Nazareth – Louis Braille who came up with a solution that was well adapted to my needs".
They were the ones who suggested she approach Microcrédit Montréal for the financing of her ambitions. "With the loan I received, I was able to buy an oven, a rolling mill, a mixer and a Vitamix blender which allowed me to produce more in a more appropriate space.
Microcrédit Montréal also gave me assistance with various accounting, marketing and legal matters. It really helped to bring my business to a higher level".
After opening a temporary space on the corner of Jean-Talon and Garnier, Carina is now looking for a new space to sell her sweets, but also French pastries, baguettes, coffee, tea and matcha-based drinks. "I'm looking for a busy street where a pastry shop would be needed. Along with the shop, I also distribute my products in a few tea houses and zero-waste grocery stores. I'm also trying to have my macaroons sold in hotels or restaurants".
Until she finds it, Carina is working in a production facility and continues to be present in various pop-up markets, as well as growing her online sales business, which now offers delivery in the greater Montreal area.
Getting support throughout
Throughout her journey, Carina felt well supported by Microcrédit Montréal. "They were able to take into consideration the person and the entrepreneur I was. They believed in me, unlike many others. I was always able to talk to someone for advice, ask my questions or make payment arrangements during the slower financial months. They followed-up on me and did not let me just vanish in nature".
These days, she is not sure what impacts the uncertainty of the economic context will have on her plans to open up a space of her own. But something she did realize as the pandemic was raging on: her pastries are important for her and others. "I pushed through because baking is what makes me want to get up in the morning. It is something that is comforting and needed when people go through difficult moment. I'm convinced that having a physical space is important for the types of products I create".
Like Carina, do you wish to have access to loan and support from Microcrédit Montréal to carry out your business project?